IBM Fullstack-Softwareentwickler Zertifikat über berufliche Qualifikation
Kickstart your career in application development. Meistern Sie Cloud Native und Full Stack-Entwicklung anhand praktischer Projekte mit HTML, JavaScript, Node.js, Python, Django, Containern, Microservices und mehr. Keine Vorkenntnisse erforderlich.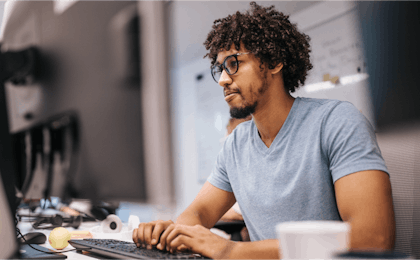 1,985 Bewertungen
15,213 bereits angemeldet
14 Monate
Weniger als 3 Stunden Lernaufwand pro Woche
Englisch
Untertitel: Englisch, Arabischer Raum, Französisch, Portugiesisch (europäisch), Italienisch, Vietnamesisch, Deutsch, Russisch, Spanisch, Koreanisch
Stufe "Anfänger"
Keine Vorkenntnisse erforderlich.
100 % eigenes Tempo
Lernen Sie in Ihrem Tempo
Lernen Sie von den Besten, um berufsrelevante Fähigkeiten aufzubauen
Kommen Sie einer Karriere als Full Stack-Entwickler für cloudnative Anwendungen schnell einen Schritt näher –mit einem Berufszertifikat von IBM. Erlernen Sie die Tools und Technologien, die Softwareentwickler beim Entwickeln, Bereitstellen, Testen, Ausführen und Verwalten von cloudbasierten Anwendungen verwenden.
Allgemeine Stellenbezeichnungen: Junior-Full-Stack-Entwickler für cloudnative Anwendungen, Full Stack-Entwickler für cloudnative Anwendungen
¹Daten aus dem Bericht "Labor Insight" von Burning Glass (Durchschnitt mit 0–2 Jahren Erfahrung), USA, 01.04.21–31.03.22.
75.200 USD
durchschnittliches Einstiegsgehalt¹
84.924
gefragte Stellen in der Softwareentwicklung¹
¹Daten aus dem Bericht "Labor Insight" von Burning Glass (Durchschnitt mit 0–2 Jahren Erfahrung), USA, 01.04.21–31.03.22.
Kompetenzen, die Sie erwerben
Cloud Native

Devops

Iaas PaaS Saas

Hybrid Multicloud

Cloud Computing

Cascading Style Sheets (CSS)

HTML

Git (Software)

JavaScript

Cloud Applications

Distributed Version Control (DRCS)

open source
Über das Zertifikat über die berufliche Qualifikation
This Professional Certificate will equip you with all the key skills and technical know-how to kickstart your career as a Full-Stack Cloud Native Application Developer. Guided by experts at IBM, you will learn to build your own cloud-based applications and practice working with the technologies behind them. This program consists of ample instructional content as well as hands-on exercises and projects designed to hone your skills and help you build your portfolio.
No prior programming experience or Cloud background is required. You'll skill up with the tools and technologies that successful software developers use to build, deploy, test, run, and manage Full Stack Cloud Native applications, giving you the practical skills to begin a new career in a highly in-demand area.
The courses in this program will help you develop skill sets in a variety of technologies including: Cloud foundations, HTML, CSS, JavaScript, GitHub, Node.js, React, Cloud Native practices, DevOps, CI/CD, Containers, Docker, Kubernetes, OpenShift, Istio, Python programming, Databases, SQL, NoSQL, Django ORM, Bootstrap, Application Security, Microservices, Serverless computing, and more.
After completing the program, you will have developed several applications using front-end and back-end technologies and deployed them on a cloud platform using Cloud Native methodologies.
This program is ACE® recommended—when you complete, you can earn up to 18 college credits.
Was Sie lernen werden
Develop with front-end development languages and tools such as HTML, CSS, JavaScript, React and Bootstrap.

Program applications using back-end languages and frameworks like Express, Node.js, Python, Django, etc.

Deploy and scale applications using Cloud Native methodologies and tools like Containers, Kubernetes, Microservices and Serverless Functions.

Build your GitHub portfolio by applying your Full Stack Cloud Development skills with multiple labs and hands-on projects, including a capstone.
Was ist ein Zertifikat über eine berufliche Qualifikation
Erwerben Sie die Fähigkeiten, um für den Job bereit zu sein
Ob Sie eine neue Karriere einschlagen oder den Verlauf Ihrer aktuellen Karriere ändern möchten, Zertifikate über berufliche Qualifikationen von Coursera bereiten Sie auf Ihre jeweiligen Aufgaben vor. Lernen Sie in Ihrem eigenen Tempo, wann und wo immer es für Sie am bequemsten ist. Melden Sie sich noch heute an und entdecken Sie im Rahmen einer 7-tägigen kostenlosen Testversion einen neuen Karriereweg. Sie können Ihr Lernen jederzeit unterbrechen oder Ihr Abonnement beenden.
Praxisprojekte
Bringen Sie Ihre Fähigkeiten in praktischen Projekten zum Einsatz und erstellen Sie ein Portfolio, das potenziellen Arbeitgebern zeigt, dass Sie für den Job bereit sind. Sie müssen die Projekte bzw. das Projekt erfolgreich abschließen, um Ihr Zertifikat zu erhalten.
Erwerben Sie berufliche Qualifikationen
Wenn Sie alle Kurse des Programms abgeschlossen haben, erhalten Sie ein Zertifikat, das Sie mit Ihrem beruflichen Netzwerk teilen können. Außerdem erhalten Sie Zugriff auf Ressourcen die Ihre Karriere unterstützen und Ihnen den Start in Ihre neue Karriere erleichtern. Für viele Zertifikate über eine berufliche Qualifikation gibt es Partner, die den Berechtigungsnachweis der Zertifikate über eine berufliche Qualifikation anerkennen, und andere können wiederum dabei helfen, Sie auf eine Zertifizierungsprüfung vorzubereiten. Weitere Informationen finden Sie auf der jeweiligen Seite zu dem entsprechenden Zertifikat über eine berufliche Qualifikation. von

IBM Skills Network
IBM is the global leader in business transformation through an open hybrid cloud platform and AI, serving clients in more than 170 countries around the world. Today 47 of the Fortune 50 Companies rely on the IBM Cloud to run their business, and IBM Watson enterprise AI is hard at work in more than 30,000 engagements. IBM is also one of the world's most vital corporate research organizations, with 28 consecutive years of patent leadership. Above all, guided by principles for trust and transparency and support for a more inclusive society, IBM is committed to being a responsible technology innovator and a force for good in the world.
Häufig gestellte Fragen
Wie erfolgen Rückerstattungen?

Kann ich mich auch nur für einen Kurs anmelden?

Findet dieser Kurs wirklich ausschließlich online statt? Muss ich zu irgendwelchen Sitzungen persönlich erscheinen?

How long does it take to complete the Professional Certificate?

What background knowledge is necessary?

Do I need to take the courses in a specific order?

What will I be able to do upon completing this Professional Certificate?

Can I get college credit for taking the IBM Full Stack Software Developer Professional Certificate?

How do you share your proof of completion with the educational institutions for transferring credit?

Where can I find more information on ACE credit recommendations?
Haben Sie weitere Fragen? Besuchen Sie das Learner Help Center.